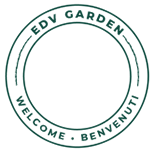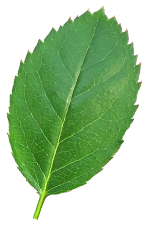 Spread out on a hill just outside Florence, EdV Garden is an original, colorful and cheerful space where you can relax and enjoy nature with a beautiful view over the city.
Born from the inspiration of the owner, Alice Esclapon de Villeneuve, the garden is the happy fruit of her creativity, imagination, and a true passion for flowers and plants.
This "garden of wonders", opened to the public in 2021 with the aim of promoting the culture of greenery and creativity, offering visitors a special place to relax and think out of the box.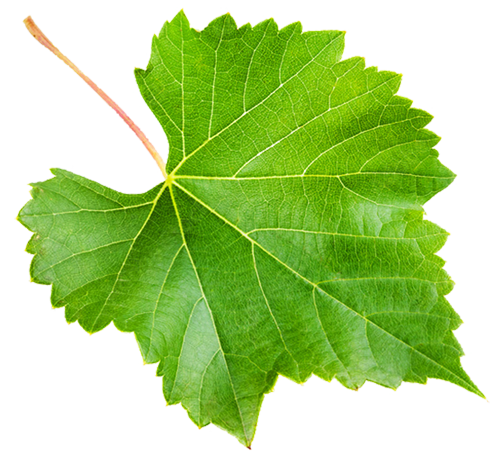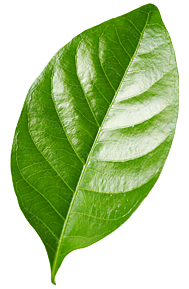 BOOK YOUR VISIT TO THE GARDEN
Getting lost in plain daylight or with a flickering lantern in your hand is a unique experience. You can be accompanied by one of our official guides or promenade by yourself with the exclusive web app containing all the info you need for your visit.
Il visitatore può muoversi e interpretare liberamente il percorso, seguendo le proprie inclinazioni: ogni installazione contiene una storia a sé, che può essere messa in relazione con tutto o vissuta come compiuta.
Le storie hanno la voce dell'alloro, del rosmarino, del bosso, del mirto o hanno il profumo di rosa, di salvia, di timo, di elicriso e di menta. O ancora, possono essere il succo di un frutto maturo, che fa capolino sopra un ramo di pesco o di ciliegio.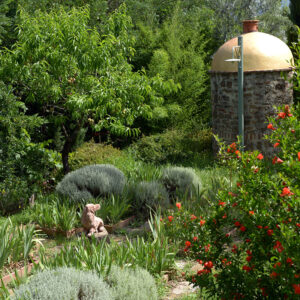 Type: for groups with a guide
Guided tour of the garden
with Alice
The experience consists of a 1 and a half hour guided tour. Alice will lead you through the entire path of the garden, stopping at the points of the installations indicated on the map. Bookable in Italian, English, French and Spanish (see dedicated page on this site).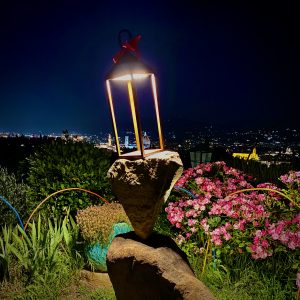 Tour of the garden
web app audioguide included
The experience consists of a 2 hours open visit. It is possible to freely walk around the garden with the help of a paper map and the exclusive web app containing audio guides with all the necessary info.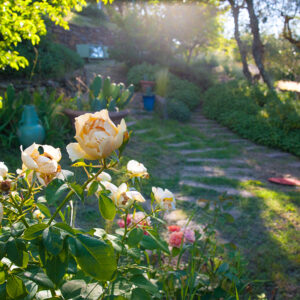 Lanterns and Lights
evening visit with lanterns
Available April to September — The experience consists of a 1.5-hour visit. You will be taken on a night tour with lamps and then enjoy the panorama of Florence and the illuminated garden.
Paths that lead
everywhere
This space was intended to become an "open-air diary" where each installation would be a chapter, and plants and flowers would be the words. Nothing is left to chance: a careful and loving study of all the plants and their botanical characteristics makes this magical place able to whisper songs of peace, joy and light heartedness.
EdV Garden is a little cluster of natural and artistic beauty that spans 6600 square meters with an amazing view of the city of Florence. An amphitheater and a panoramic terrace are just some of the spots where exclusive events, planned throughout the year, will take place.
Follow EdV Garden to stay updated!
Do you want to organize a private event?
Contact us for information.